Reports suggests that Don Johnson, a blackjack player won $15 million from three casinos in Atlantic City, last April, including 4 million from Caesars, $5 million from the Borgata and $6 million in one night from the Tropicana. He was reportedly playing a hand of blackjack nearly every minute during his 12-hours at the Tropicana.
Don Johnson has smashed the House and racked up a huge fortune from his good luck. This is something what many in the gambling world have dreamed. In just five months, the professional gambler won a mighty $15 million dollars in Atlantic City. However, despite his big win he lives in the same house he did before the success.
Johnson did admit to The Atlantic that did have some favorable conditions. He said he played fairly and squarely but with casinos offering him 20 per cent discount helped him on his losses and some slightly more favorable house rules to help him break the bank. Nevertheless, ultimately Johnson reflected that a group of casinos actually had a huge setback because of one player for the first time in 30 years. He added that somebody had all the dots connected and came to conclusion that it must be one person.
Another report suggests that Johnson's social life indeed has changed, even though his lifestyle at home has not. He has been hosting a birthday party in Las Vegas for Pamela Anderson and now seen partying with the likes of Charlie Sheen and Jon Bon Jovi.
Johnson went unnoticed as he reportedly played one hand of blackjack per minute. He was considered a newbie in Atlantic City. He while paying raised suspicion from surveillance cameras that he was counting or cheating cards. However, officials in Atlantic City investigated his streak and they concluded that he had beaten the casinos fair and square and was in no way cheating or counting cards. They said that he was well prepared and had studied the game well before setting foot in a casino.
European Roulette
European roulette is one of the most common variations of the game. The European roulette wheel consists of 37 numbered slots – the numbers 1 through 36 and a single zero. There are a total of ten bets that can be placed in a game of European roulette which includes five inside bets and five outside bets. The house edge for European roulette is 2.7%, unless you play with the unique bets to European roulette – the en prison rule or la partage rule, in which case the house edge drops to 1.35%.
American Roulette
American roulette is another popular variation of the game. The American roulette wheel consists of 38 numbered slots – the numbers 1 through 36 plus a single zero and a double zero. There are a total of eleven bets that can be placed in a game of American roulette – six inside bets and five outside bets. The house edge in American roulette is 5.26%, although if you place the five number bet that is unique to American roulette, this pushes the house edge up to 7.89%.
French Roulette
French roulette is similar to European roulette in its aim and the way it is played; however there are a number of unique features and bets in this variation. The French roulette wheel consists of 37 numbered slots – the numbers 1 through 36 and a single zero. The first difference is that the numbers on the table are completely red and the table in labeled in French. In addition, French roulette offers a number of unique bets known as announce bets and call bets.
Roulette Royale
Roulette royale is similar to European roulette in that it has 37 numbered slots – the numbers 1 through 36 plus a single zero. The main difference lies in the fact that roulette royale offers a progressive jackpot. When players place their bets on the numbers, they are also required to place a side bet to qualify them for the progressive jackpot. The progressive jackpot will pay out if the ball lands on the same number twice, three times, four times or five times in a row with the entire jackpot being awarded for five consecutive hits.
Less Common Variations of Roulette
There are other variations of roulette that exist, but that are less common including mini roulette, racetrack roulette, double action roulette, link bet games, multi ball roulette, triple bonus spin roulette and others.
In 2011 Maryland saw its first decline in slots revenue after its two casinos brought in $266,537 less in May than in April. The Maryland State Lottery Agency announced Monday that, the Hollywood Casino Perryville and the Casino at Ocean Downs brought in $13.2 million in revenue last month.
For each of the 1,500 machines at the Cecil County facility, Hollywood Casino Perryville generated more than $9.6 million, or an average of $206.59. That average is less than the $210 per machine. For the month or an average of $158.61 the Casino at Ocean Downs, which has 750 machines, made $3.7 million.
The results were not necessarily cause for concern, what State officials, the casino operator and independent analysts said. Stephen Martino, Maryland Lottery Director said, because of competition from places like Maryland, facilities in nearby states such as New Jersey, where Atlantic City is a popular tourist destination, are ramping up their marketing.
To run the slots parlors proposed for Baltimore or Rocky Gap in Western Maryland, the state has been unable to find an acceptable operator. The five casinos are supposed to contribute $600 million annually to the state's treasury when they are all open.
So far the two casinos now open have generated $90.4 million in revenue. After winners are paid out the revenue reflects the money the casinos take in. While nearly 50 percent goes to the state Education Trust Fund, the casinos keep 33 percent whereas the remaining money is split among several entities.
Nevada Gold & Casinos Inc. (UWN) has developed into the "king" of the mini-casinos. The management made decision months ago to shed all non-gaming assets so it could give attention to on its gaming activities.
The company pronounced that for $1.25 million, it had gained the Red Dragon mini-casino in Mountlake Terrace, Wash. The purchase means Nevada Gold & Casinos Inc. will count some 10 mini-casinos in its inventory and they will own the only two mini-casinos in Mountlake Terrace.
The shares were listed at $1.27 each at closing Monday. The shares in the company are lightly traded. In a statement issued by Nevada Gold (NYSE-AMEX: UWN), the seller was not divulged.
Robert Sturges, CEO of Nevada Gold said that this is a striking acquirement opportunity and it includes many of the characteristics found in their previous Washington mini-casino purchases. With no noteworthy additional overhead expense, into their exceptional management infrastructure in Washington, this acquisition will build on the triumph of their existing Mountlake Terrace mini-casino and it will be integrated flawlessly.
He added that they will apply some of the same management methods and strategies that are driving very encouraging results at the other mini-casinos they attained and they anticipate recuperating the operation of this facility.
Among other conditions, closing of the acquisition is subject to customary closing conditions, including licensing and necessary approvals. In the Form 8-K, details of the transaction will be available and it is to be filed by the Company later this week.
Nevada Gold & Casinos, Inc. of Houston, Texas is a developer, owner and operator of 10 gaming facilities in Colorado and Washington.
The amounts are really stacking up for the Maryland Lottery. It released its revenue for this April. The numbers reflect the money brought in at the Hollywood Casino in Perryville in Cecil County and the Casino at Oceans Downs in Worcester County in April, more than $13 million total.
$4.4 million of the revenue will go to the casinos for April. Almost $1 million will be put into the horse racing purse account and about $6.5 million will go to the Education Trust Fund.
$223.38 was Perryville's per-machine daily revenue in April; the casino's best showing in six months. After winners are paid, the revenue reflects money the casinos took in but before expenses and other costs are deducted.
With $3.5 million since its January opening, the Casino at Ocean Downs, near Ocean City on the Eastern Shore, raked in its largest revenue yet in April. Last month, the casino took in $155.94 daily per machine.
The state takes the remaining 67 percent, which is split among various entities, such as the state education trust fund, aid for the racing industry and administrative costs for the Maryland Lottery, while of the $13.6 million total revenue in April, the casinos keep 33 percent.
Since September, the two casinos have generated a total of $77.1 million in revenue. 48.5 percent is set aside for the state's education trust fund, while the casinos get about one-third of the gross revenues. 5.5 percent goes to local impact grants and 2.5 percent goes to a horse racing track renewal, while horseracing purses get about 7 percent.
British sports bookmaking firm Ladbrokes abandoned their endeavors to get hands on online casino company 888 Holdings. The two companies fell short to reach a concurrence, although they had been negotiating takeover terms since December. In 2007, similar talks had been carried out by the two companies, which fell through too.
Ladbrokes had arrangements of acquiring 888 for GBP240 million (US$391.7 million) and it was the major portion of the agreement. In the online gaming market, this move would have enhanced Ladbrokes' presence. 888 is much more visible with its popular casino games, such as blackjack and video slot machines, even though Ladbrokes has their own online sports book operations.
The parting was described as "amicable" by the Ladbrokes CEO Richard Glynn. He told reporters that the entire agreement was not in the shareholders' interest. Glynn also said that another such takeover effort in the future might be considered by his company.
The appointment of Ian Bull as its new CFO was declared by Ladbrokes. When the news reached the London Stock Exchange, 888 shares reached their lowest point this year, while shares of Ladbrokes climbed 7 percent. In 2010, 888 also reported lower earnings, which may also have contributed to the stock's decline. During Q1 Ladbrokes saw its online gaming revenue raised by 1.2% boosted. It was due to the casino business up by 23.9% and bingo up 18.8%. The unsatisfactory revenue results from its sportsbook were offset by these verticals. The revenue was down by 5.3%. Cheltenham festival is believed to be the major factor behind this drop. Poker revenue was also down by a gigantic 32.8%.
The Maryland Lottery Agency declared that the state's two casinos generated nearly $13.1 million in revenue in March.
More than $9.83 million was generated by the Hollywood Casino Perryville or an average of $211.50 for each of the 1,500 machines at the Cecil County facility. The Casino at Ocean Downs took in $3.25 million for the month, or an average of $139.83. Currently, it has 750 machines.
In February, the Perryville facility generated $9 million and it has taken in nearly $56.17 million since it opened Sept. 27. When it brought in $11.3 million, its preeminent month was October. Since October, March's revenue is the highest.
The casino's director of marketing, Marc DeLeo said that the strong marketing calendar is unquestionably working again. He added that the casino is particularly busy because of the strong promotions on the weekends.
The state has received $63.5 million, between both of the casinos. The state's education fund will be given the major portion of the March revenue, $6.3 million, which is $500,000 more than last month. One-third of the revenue will be kept by the casinos.
The Maryland Lottery has awarded more than $11.7 billion in revenue to the State of Maryland and has awarded more than $17.7 billion in prizes to players, ever since its inception in 1973. Significant state programs and services including public safety and health, education, human resources and the environment is supported by the Lottery and it is one of Maryland's largest revenue sources.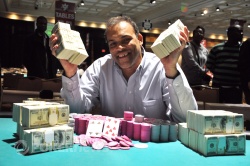 The World Series of Poker Circuit main event title was triumphed by New York's Brian Ali at Caesars Atlantic City this weekend. In the $1,500 event, Ali earned $139,284 surviving a field of 450 and he was euphoric with how it all worked out.
In the seven-year history of the tour, Roland Israelashvili came into the final table with a shot at becoming the first-ever repeat WSOP Circuit Main Event champion and Maryland's Patrick Houchins held the chip lead.
The event was the last stop of the current run in the New Jersey city and was dubbed the Battle of the Boardwalk. It featured some of the leading names on the tour. With the final day's play the quickest on record, Ali prevailed over the challenges of almost 450 other poker players as he brushed off some of the most excellent competitors in just three hours and 55 minutes.
Last year, the tournament drew just 174 entries and this year with 450 entries, the tournament appears to be flourishing. Ali collected $139,284 in the prize pool for the $1,500 buy-in No Limit Hold'em tournament.
The Harrah's Rincon casino in San Diego is the location where the play is already in progress and it will carry on until March 30.
Ali had exhibited a leading performance that sent numerous opponents to the canvas and that is the reason why he earned the "knockout" references. John Andress of Doylestown Pa. took the second place and won $86,071.
Into the season-ending National Championship finale, Ali, 51, was rewarded an automatic seat valued at $10,000. The event will be televised from Caesars Palace in Las Vegas in May.
In the Trump Entertainment Resorts' "One Million to One Player", month-long promotion, Williamstown, NJ resident Teresa Piotti, 78, was picked as the champion. At the Trump Marina Hotel Casino, Trump Plaza Hotel & Casino and Trump Taj Mahal Casino Resort, Piotti's name was arbitrarily chosen amongst players. At the Taj Mahal, Piotti was playing. For the past 20 years, she has been playing and does not plan to discontinue anytime soon.
Trump One cardholders were open to the promotion that assured one lucky Trump One cardholder $1 million slot dollars or a cash option. Each time they played at one of Trump's three casinos in the city, they were entered into the contest. When an associate of the Trump team asked her to come with them, Piotti said she was busy playing her favorite slot machine, without clarifying why they knew her or why they wanted her.
All three Trump Atlantic City casinos including Trump Plaza Hotel Casino and Trump Marina Hotel Casino were embraced in the promotion. To play in any of the Trump-owned casinos, the grand prize was an instantaneous $1 million slot dollars and there was a cash option too.
The cash option was anonymity. If the winner decided for the cash, they would have to make a choice of one envelope out of the presented three, without knowing what the cash prize was inside each of them. Teresa went for cash option. She had to select one envelope out of three. One envelope had $200,000 cash, one with $225,000 cash and the third one had $250,000 cash. Teresa picked the envelope with $200,000 cash.
Piotti had no idea the promotion was even happening, even though she was playing slots at the Trump Taj Mahal in no less than three days a week for the last 20 years.
In the fourth quarter, MGM Resorts International says it narrowed its loss, though the company saw casino revenue and room revenue decline.
Billionaire Kirk Kerkorian is a major investor in the casino operator. He said that during the quarter, the casino operator had a loss of $139 million, or 29 cents a share, compared with $433.9 million, or 98 cents a share, a year earlier when results were weighed down by a charge.
MGM Resorts says that per share, it lost 20 cents, excluding one-time items. Revenue for the Las Vegas company was $1.47 billion, up from $1.45 billion. MGM Resorts was expected to lose 21 cents per share on $1.49 billion in revenue by the analysts polled by FactSet.
Matching the Street's view, revenue for the operator of casinos and resorts in Nevada, Mississippi and Michigan was $1.46 billion, up from $1.45 billion a year ago. Partially offset by fewer promotional allowances than in the year-earlier period, sales slipped in its casino, rooms, food and beverage, and entertainment segments.
Driven by an 11% decline in table games, casinos revenue fell 3%, partially offset by a 2% increase in slots. Volume of table games fell by 13%. From 86% in the year-earlier period, occupancy in rooms on Las Vegas Strip fell to 84%.
As consumers remain reluctant to spend big on leisure activities and luxury vacations, the downtrodden economy has weighed heavily on casino profits. MGM has struggled in recent quarters.
Jim Murren, MGM's chief executive, called 2010 a transformational year, despite the weaker results. He added that to improve their business, they are highly focused on initiatives such as M life, our new customer loyalty program that will benefit from an economic recovery. With its forward booking pace already ahead of last year, Murren said the company is so far encouraged by the level of business activity in 2011.
MGM said that $119 million was the Total operating income from MGM's Macau joint venture, which is up from $22 million a year earlier. In the world's biggest casino market, where overall gambling revenue surged 58 percent last year, the company plans a Hong Kong initial public offering of its joint venture. In the quarter, the MGM Grand Macau repaid MGM $192 million.
In December 2009, MGM and partner Dubai World opened CityCenter after the project skirted bankruptcy. With bonds with later maturities last month, the partners replaced most of the property's $1.8 billion loan.